Viral Bule Nggak Paham Cara Pakai Masker Kunyit: Wajahku Mirip Bulan!
Suara.com - Kunyit merupakan salah satu bahan alami yang bisa digunakan sebagai masker wajah. Namun, meski memiliki banyak manfaat, ada baiknya jika Anda berhati-hati saat menggunakan masker kunyit.
Melansir World of Buzz, seorang wanita asal Skotlandia membagikan pengalamannya memakai masker kunyit. Wanita bernama Lauren Jay Rennie itu sedang mencari solusi untuk jerawat.
Kunyit memang bermanfaat dalam membantu menghilangkan jerawat, warna kulit yang tidak merata, kerutan di wajah, hingga mengatasi iritasi. Sayang, Lauren kurang paham cara membuat masker kunyit.
Lewat unggahan TikTok miliknya, wanita ini mengungkap bahwa ia tidak mau memencet jerawatnya karena nyeri. Alih-alih, ia menemukan resep masker kunyit.

Baca Juga:
Dapat Kiriman Parsel Kue Imlek, Pria Ini Sedih Pas Lihat Isinya Begini

"Aku menemukan resep masker wajah kunyit ini, yang bisa kubuat di rumah sekarang juga di dapur. Jadi aku melakukannya. Ini bermanfaat untuk jerawat, kerutan, dan iritasi," jelasnya di awal video.
Meski begitu, Lauren sadar ada yang salah saat ia mulai mengoleskan masker. Pasalnya, kulit tangan Lauren mulai berubah kuning karena masker.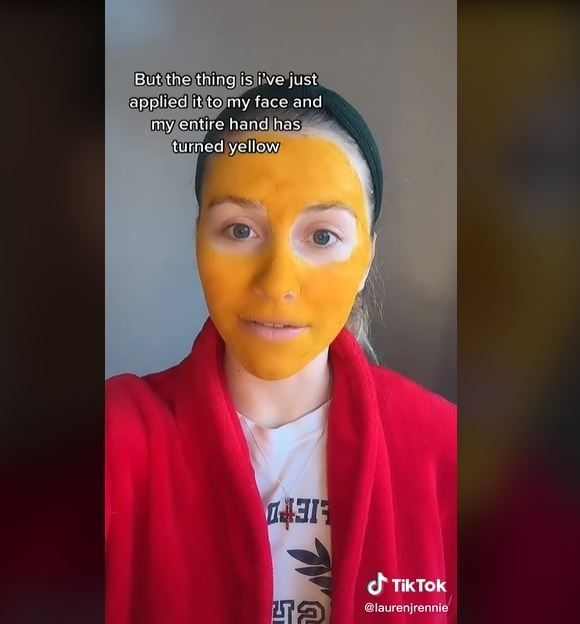 "Tapi begitu aku mengoleskannya ke wajah, seluruh tanganku berubah kuning. Begitu aku menghapus ini dari wajahku, aku akan mirip bulan," imbuhnya.
Lauren juga menunjukkan kulit wajahnya setelah ia menghapus masker kunyit. Ia lantas membandingkan wajahnya dengan emotikon bulan yang sama-sama memiliki warna kuning.
"Aku harus ke supermarket dengan ayahku malam ini. Aku harap makeup bisa menutupi ini," tambah Lauren.

Baca Juga:
Diajak Mertua Makan Bareng, Wanita Ini Nyaris Jantungan Pas Lihat Lauknya

Wanita asal Skotlandia itu lantas berakhir mencuci dan menggosok wajahnya. Meski noda kunyit berhasil dihilangkan, bercak kuning masih terlihat di beberapa tempat.
Pasca diunggah, video Lauren tersebut sudah ditonton 1,2 juta kali. Warganet pun ramai memberikan saran soal cara memakai masker kunyit yang benar.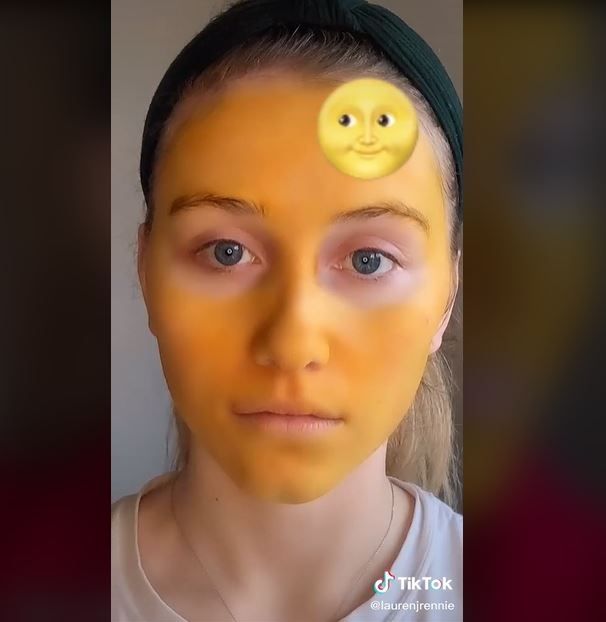 "Aku dari India dan aku sudah melakukan ini sepanjang hidupku. Kesalahan pemula. Kau hanya butuh sedikit kunyit."
"Jangan hanya memakai kunyit. Kau harus membuat pasta dengan menambahkan tepung, sedikit kunyit, dan air mawar," saran yang lain.
"Dia benar-benar bangun tidur dan memutuskan untuk menjadi The Simpsons," tambah komentar warganet.
"Sekarang wajahmu bersinar keemasan," imbuh yang lain.
Sebelum ini, seorang warganet asal Indonesia juga pernah viral karena masalah serupa. Lantaran iseng memakai masker kunyit, wajah warganet itu pun berubah kuning hingga dianggap mirip tokoh Minion.